Datacentre Overview: Chicago, Illinois, USA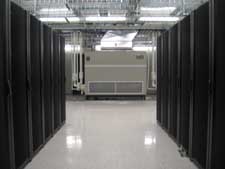 The colocation facilities GigaTux uses in Chicago are based at Steadfast Network's 725 S Wells Street datacentre in the centre of town. This datacenter has N+1 redundancy for resiliance. Most of the fiber connecting the East and West coasts of the United States goes through Chicago, giving Chicago ample network capacity as well as routes that offer low latency to both the East and West coasts.
Network Specifications
This location offers dual fully diverse fiber paths, building entry points, and in-building riser. A selection of premium network carriers is available, including Steadfast Networks, Abovenet, AT&T, Verizon, Qwest, Sidera, Cogent, and Atlantic Metro.
In additional, 1.25Gbit/sec and 10Gbit/sec metropolitan network connectivity is available to nearby 600/700 Federal and 350 E Cermak Rd in Chicago, two other major peering and transit points in Chicago. 350 E Cermak Rd is the home to major corporations such as the Chicago Mercantile Exchange (CME Group), the Intercontinental Exchange (ICE), Equinix, Fidelity Investments, British Petroleum (BP), CenturyLink (Qwest and Savvis), British Telecom (BT), T-Systems, and many others.
Power Specifications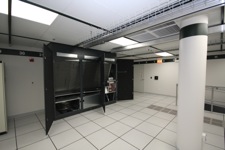 Power distribution is provided by a Starline busway for nearly instant deployment. UPS N+1 redundency is available by utilising a 750 kVA Chloride UPS (Expandable to 4.5 MW) with a minimum 15 minute battery capacity, falling back to a 1.5 MW Caterpillar generator (expandable to 3 x 1.5MW).
Environmental Control and Fire Detection
This facility offers N+1 230+ Ton Smardt Chillers (expandable to 1050 tons) with 2N redundant pumps. Fire suppression is provided by VESDA particulate detection, clean agent extinguishers and a pre-action dry ripe sprinkler.
Physical Security
Steadfast's colocation facilities are very secure buildings with professional staff onsite 24/7, providing safe environments for servers and equipment. This facility offers proximity card and biometric access controls and 24/7 security camera monitoring/recording. For your peace of mind, this facility is also SAS70 / SSAE16 audited.