Datacentre Overview: London, United Kingdom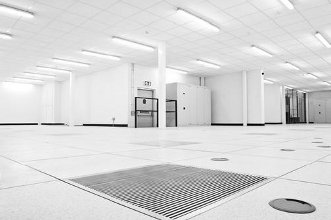 The colocation facilities we use around London are based in Spectrum House, a purpose built, two-story site in the M4, silicon-valley corridor known as being a major and successful hub for the technology, telecommunication and IT service sectors. This datacentre has been designed from the ground up with 100% uptime in mind with a skilled technical support team available 24x7, all year round.
Network Specifications
Spectrum House is redundantly connected to the iomart Group, UK-wide network through dedicated dark fibre chains providing the hosting floors with access to over 40GBit/s of premium connectivity to the internet. The network has multiple, dedicated 10GBit/s port connections with external connectivity providers including TATA Communications, Telecom Italia, Tiscali, Interoute and the London Internet Exchange (LINX) providing, at current levels, over 60 GBit/s of external connectivity in addition to over 200 peering points.
Power Specifications
Spectrum House boasts a dedicated 2.5MW, High-Voltage mains feed direct from the National Grid providing power for all hosting floors. This mains feed is backed by multiple 500kVA Uninterrupted Power Supplies (UPS) in an N+1 configuration to provide resilience against failure. Spectrum House is categorised alongside emergency services for fuel provision in the event of emergency.
The UPS, in-turn, are supported by multiple diesel generators that provide 3MVA of backup power to the site. They are configured to start up and synchronise automatically in the event of a mains failure and operate at full load within 40 seconds from start-up. In the event of mains failure the UPS will provide constant 3 Phase AC power to the hosting floors until the diesel generators start-up. The UPS battery autonomy is 10 minutes at full load.
The diesel generators are fuelled by a 13000 litre onsite tank providing enough fuel for over 11 hours of continuous running at full load. The generators can be refuelled during operation. This configuration provides resilient power to all hosting floors and critical plant infrastructure.
Environmental Control and Fire Detection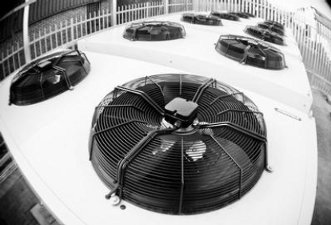 The main cooling within Spectrum House is provided by a Direct Expansion system which is considerably more efficient than alternative methods. Cooling within hosting floors is provided by Down Flow Units which feed cool air under the floor void which acts as a plenum to the system. Vented floor tiles allow cool air to be strategically fed into cold aisles from which equipment is positioned to draw and then exhaust into hot aisles. The hosting environment of all floors is monitored by onsite support staff at all times.
Spectrum House is monitored by a fully addressable Fire Detection System which detects and reports fire by a dual knock zoned protection system. The site is also monitored by a VESDA (Very Early Smoke Detection Apparatus) System that continually draws in and analyses air from across the hosting floors for smoke particles. VESDA is an Aspirating Smoke Detector and detects alterations to the scatter of light through the particles found in the air that could be indicative of smoke. Detectors are mounted in the floor void and on the hosting floor to cover all areas of the environment and the system can highlight the presence of smoke before it is even visible to the human eye.
Physical Security
The Spectrum House security policies have been developed in such a way as to provide a safe and reliable environment for data. All data floors are secured behind multiple layers of physical security. The primary barrier for the site is a 2.5m palisade fence, the entrance for which is restricted by access card and monitored 24x7.
Digitally recorded CCTV is utilised to monitor the movements around the site 24x7 and these recordings are kept for a minimum of 90 days. The secure database of validated tag users is regularly reviewed and is fully auditable for a period of 90-days. All CCTV cameras are fitted to work in low-light situations.
All network and infrastructure equipment is physically protected within the boundaries of securely monitored hosting environments. Security is an important consideration at a network level and at Spectrum House all network port connections are, by default, unconfigured for network or internet access. Access can only be granted by RapidSwitch personnel and restrictions prevent unauthorised access being gained on the network.