Datacentre Overview: Frankfurt, Germany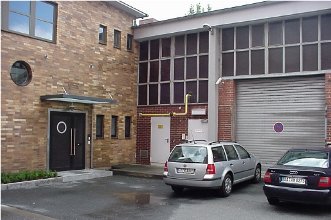 The colocation facilities we use in Frankfurt are based at the Versatel Solmsstr. datacentre. This is a single-story site, situated close to Germany's primary network hub offering access to one of the largest interconnections in Europe. A skilled technical support team is available 24x7, all year round.
Network Specifications
The datacentre is directly connected to velia.net's own, autonomous high-speed IP network, with redundant upstream and peering. It can operate completely independently of individual suppliers and carriers. Upstream connections include a total of 13 GBit/s to TeilaSonera, 10 GBit/s to Global Crossing and 1 GBit/s to Kleyrex, as well as 1 Gbit/s peering to Klyrex and peering to Frankfurt Redbus, Telecity, Versatel and InterXion datacentres.
Power Specifications
AC power is provided through a UPS-based power supply normally fed via the utility grid. In the event of power supply failure, supply will be switched to a diesel-powered emergency generator.
Environmental Control and Fire Detection
The air conditioning in the rooms allows the operation of equipment according to ETS 300 019-2-3 Class 3.1. The data center is equipped with a fire alarm system and a fire extinguishing system. In the event of a fire, the affected equipment is protected by a CO2 extinguishing system with FM200.
Physical Security
There is always a security team on the site, with entrance only possible with an authorised key card with PIN. An alert system is constantly available and active.